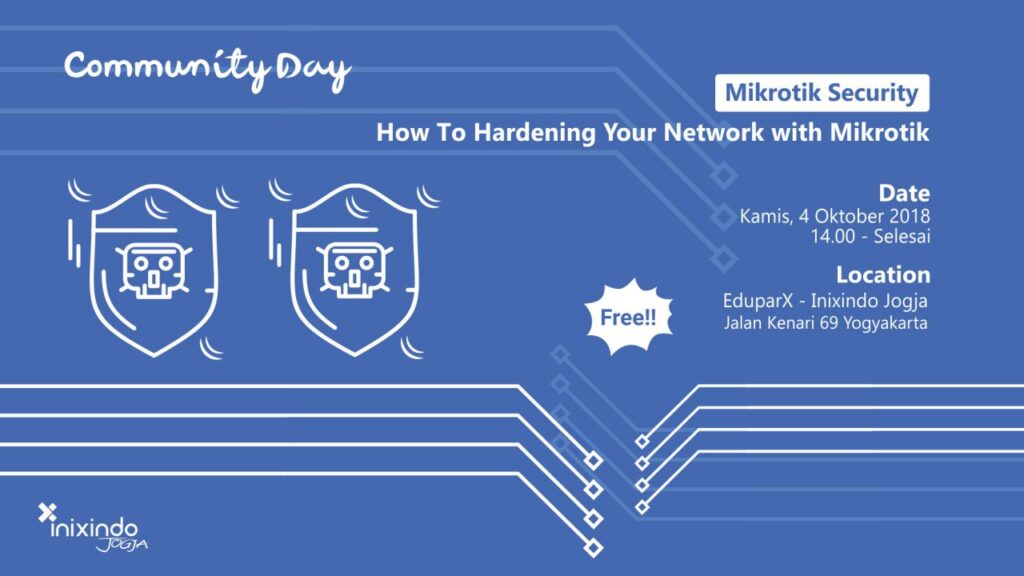 Mikrotik Security : How to hardening Your Network with Mikrotik
Mikrotik merupakan salah satu brand yang sering di gunakan untuk jaringan dalam skala medium to small, atau bahkan enterprise untuk beberapa bagian jaringannya. Pentingnya kesadaran akan pentingnya infrastruktur jaringan dan munculnya berbagai macam serangan dibutuhkan dalam managemen pengelolaan jaringan. Serangan seperti, cdp flooding, dhcp starvation, arp poisioning, netcut, WEP/WPA Cracking dll, Menjadi salah satu isu yang sering ditemu di jaringan.
Yang menjadi pertanyaan adalah bagaimana cari kita untuk dapat bertahan dan melindungi jaringan kita dari serangan yang ada. Dalam Community Day ini, akan dibahas bagaimana bertahan dari serangan serangan tersebut dengan menggunakan Mikrotik, dan melihat peran mikrotik untuk dapat menghadapi serangan tersebut sesuai kebutuhan keamanan jaringan.
Biaya
Free (tempat terbatas)
DATE AND TIME
4 Oktober 2018
14.00 WIB – Selesai
LOCATION
Eduparx – Inixindo Jogja
Jalan Kenari No 69 Yogyakarta
View Maps